25 things of everyday life in the Middle Ages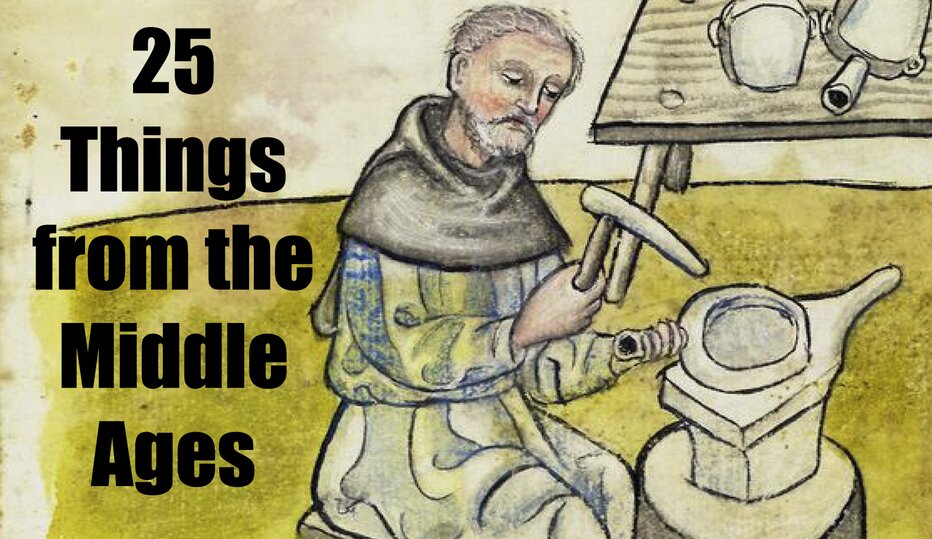 If you lived in the Middle Ages, what kind of things would you have? Here is a guide to some of the everyday items that a medieval person would have used or owned.
anvils – one of the instruments typically used by blacksmiths, anvils are heavy blocks of metal. When working with iron or types of metals, the blacksmith would place these pieces on an anvil and use a hammer to drive the piece into shape, creating things like armor, weapons, or tools.
Beds – medieval beds would not be as soft as the ones we use today. It would have a wooden frame, then a few layers of mattresses – the bottom one would be stuffed with straw, the next filled with wool, then others with a slightly better material like goose feathers. You can also find feather pillows and linen or wool blankets.

Books – Most medieval people would not have had books. Those who did would include priests and monks, nobility and other wealthy people. In the Middle East and China (where the printing press was invented), books would be more widely used. In medieval Europe, books were typically created using animal skins that could be made into vellum, which were then sewn together into leather bindings.

Brooches – Before the days of zippers (and even buttons, as they only started to be used in the 13th century), people used pins to fasten clothes together. Often made of metal, brooches were often elegantly designed and decorated, looking very much like jewelry. We have many examples of medieval brooches, including those made from Viking Scandinavia to Renaissance Italy.

Candles – if you needed light indoors or at night, you would probably use a candle. In the Middle Ages, there were two kinds of candles: tallow – made from sheep fat; and wax – made from beeswax. Wax candles were more expensive because they burned cleaner.

Chairs – As today, medieval chairs come in all shapes and sizes. Some would be simple stools or benches, while those used as thrones would be much more ornate, often with a high back. There was even a folding chair, called faldestual.

chamber pots – if you needed to go to the bathroom, but didn't want to leave your room, a medieval person would probably use these portable toilets, often made of metal or ceramic.

Combs – Grooming and beauty would be important to medieval people, and a comb would be an essential tool for that. They were usually made of wood or bone, but we have many examples in ivory.

Chimneys – for heat and cooking, you would often have a continuous fire, called a hearth. They were usually in the middle of the room, which was the best way to use up all of its heat. The smoke was supposed to rise through a hole in the roof, but often a medieval room smelled of smoke. A larger building like a castle would have chimneys built into the walls.

Hats – both men and women often wore head coverings, and there were many varieties and styles. What you wore on your head would be a good indication of your wealth or importance. Jeffrey Singman writes, "Ordinary women of the period are often depicted wearing a simple sash, probably consisting only of a long rectangle of cloth, either folded over on itself or secured in place with a band wrapped twice around it. the head.

Jars – You always need containers, to store food or other goods, and pottery was big business all over the medieval world. Much of the surviving art from the Middle Ages is that found on pottery pieces, including jars, pitchers and decanters.

Keys – to help lock a door or a trunk, you would need a key. Made of metal, they are often much larger than modern keys.

Knives – an object of daily life in the Middle Ages was a small knife, which served both as a table utensil and as an everyday tool. They were usually worn on a person's belt.

Musical instruments – there were many types of musical instruments in the Middle Ages – some of the most popular include the lute (a stringed instrument similar to a guitar) and a horn, made from animal horn. Flutes, recorders and pipe organs were also used during this period.

plows – one of the most important things to do in a medieval farm was to break up the soil of a field so that it could be planted with crops. To do this you would need a plow – basically a type of blade that could be dragged through the ground and slice it as you go. Typically pulled by animals, you would need a heavier plow to break up harder soils, such as those found in northern Europe.

Balance – to correctly measure the weight of something, medieval people used scales. For example, a merchant would need to know how to accurately weigh a good they were buying or selling, and medieval governments often had many regulations for their use.

Shields – a medieval soldier often carried a shield – in some cases it was their only form of protection. Some styles include the circular wooden shield often associated with the Vikings, and a cobblestone, which was large enough to cover an entire body and would allow an archer or crossbowman to crouch behind it as they prepared their attacks.

Shoes – these often came in many shapes and styles, and could be fabric, leather or even wood (clogs). Towards the end of the Middle Ages, a style of shoe popular with men was one with very long pointed toes. Apparently they were painful to wear, as they could cause onions.

Shovels – working as a farmer in the Middle Ages meant using a few different tools, including the shovel. It has been used since ancient times and is very similar to the ones you can buy today.

Brooches – in the process of making clothes, you would need to take wool, linen or cotton and turn them into yarn. The brooches were hand held and by twisting and turning them you could retrieve the fabric. In the Middle Ages, the process was improved when the spinning wheel was invented, which made the process much easier and faster.

swords – a die the most important weapons of the Middle Ages, the sword is basically a long piece of iron that has been sharpened. They are found throughout the medieval world, in many different sizes and styles.

the tables – the most common type of table in the Middle Ages was a trestle – they came in pieces that had to be mounted with two or three supports, then put a flat board on top.

Tools – many professions in the Middle Ages would need a variety of tools for the job. Everyday items like saws, hammers, and chisels would be needed for construction or to craft items.

slicer – When you served food to someone in the Middle Ages, you served it over other food. A slicer was usually an old slice of bread, round in size, on which other foods were placed. After the meal was finished, the slicer could be dipped in sauce, and sometimes this was distributed to the poor.

sinks – While only wealthy people would have their own bathtubs, public baths could be found in many cities for the general public. Made of wood and circular in shape, a medieval basin could be large enough for two or more people to sit in while water was brought to them. Click here to learn more about bathing in the Middle Ages.

Further reading:
Holmes, Urban Tigner, Daily life in the twelfth century: according to the observations of Alexander Neckham in London and Paris (University of Wisconsin Press, 1966)
Singman, Jeffrey L. The Middle Ages: Daily Life in Medieval Europe (Sterling, 2013)
Tschen-Emmons, James B., Artifacts from Medieval Europe (ABC-CLIO, 2015)