Battery Technology in Saws: Changing the Future of Training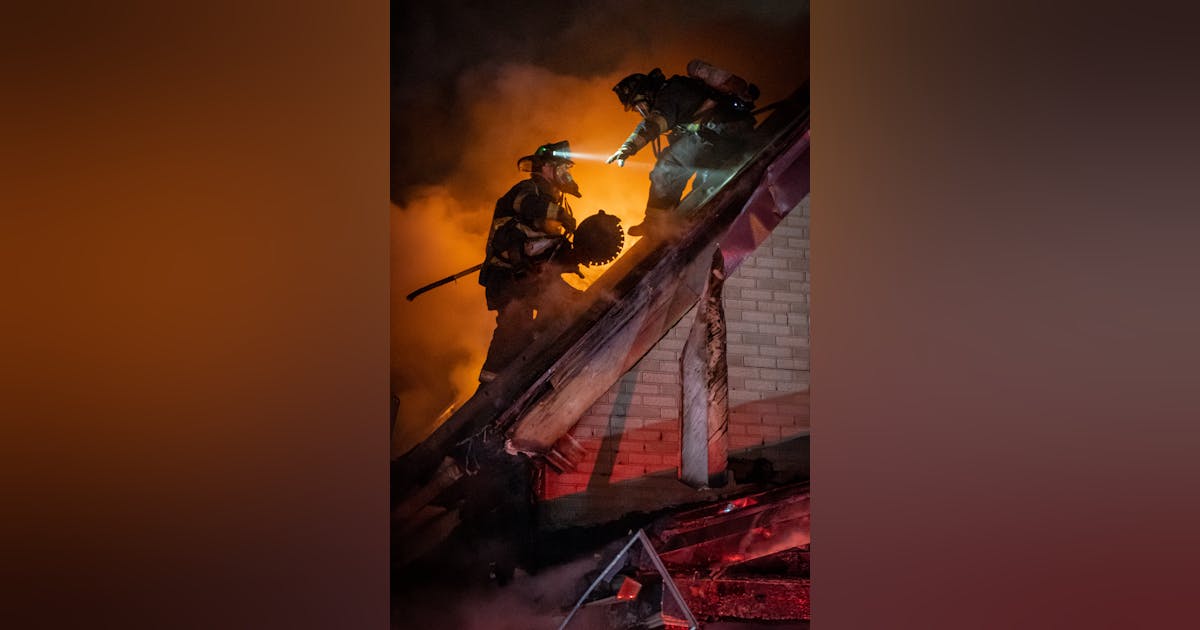 We have seen the evolution of ventilation fans from electric and gas-powered units to battery-powered models. We have also seen the evolution of extrication tool technology from large, bulky knives, spreaders and rams that run on vehicle batteries, to those tied to a vehicle or portable pump, to models that work with rechargeable batteries. The latter are lighter and more mobile than the alternative models.
Rotary saws and fan saws are the latest pieces of emergency service equipment to emerge from the battery-powered evolution. These lighter models are more versatile than their predecessors. Who would have imagined being able to cut with a ventilation saw in an atmosphere immediately dangerous to life and health (IDLH)?
New mentality
Battery saws are at risk of underutilization. One reason for this could be the underestimation of their versatility of application in IDLH and low oxygen atmospheres faced by building fires and other hazardous situations – for vertical venting on a flat roof or in slope; use vertically to enlarge openings or cut window rebars for RIT operations; to remove debris around a chimney during a chimney fire; and for cutting concrete, other masonry products, shipping containers and other man-made products for technical rescue operations.
DeWalt, Husqvarna, Makita and Milwaukee are among the many vendors that have upgraded their gas saw offerings to battery-powered technology. One Husqvarna model even has built-in connectivity, making it easy to monitor the saw's location, run time and service interval and receive updates wirelessly. This up-to-date data can be vital for maintaining and monitoring the efficiency of saw operations. (Similar technology, where usage and location can be tracked, is found in the SCBA industry.)
With these evolutionary changes, the operational and functional mindset of fire departments must change, as many members are creatures of habit and are only comfortable with the idea of ​​using saws. petrol engines that have been running for years.
Advantages and disadvantages
Lisa Dreher from Forbes magazine, who is the author of "Three Keys to Doing Marketing Transparency Just Right," believes that many consumers know that marketing techniques highlight the best qualities of a product or service. Unfortunately, many manufacturers and service providers downplay the less flattering aspects of what they sell. I'm sharing this because members might fall in love with what's said about battery-powered rotary saws and ventilating saws – even via what's included in this article – but the limitations of these tools should be recognized.
Recently, several people from my department's technical rescue teams and FEMA's Urban Search and Rescue Task Force used battery-powered rotary saws during a recent special operations training event. They were tasked with cutting rebar and concrete in old prison cells. They praised the saws for their ability to be used in confined spaces without members needing to invest time in ventilating work areas. Of course, that's different from what would have been needed for team members to perform the same tasks with gas-powered models, given their carbon monoxide emissions.
I have found that the lighter weight of the saws makes long term use less physically taxing. Additionally, due to the lighter weight and reduced torque compared to gasoline-powered counterparts, it is easier and safer to cut with a battery powered rotary saw in a horizontal position. This means that rooftop ventilation training may need to be reconsidered.
The way I was taught and therefore the way I taught is that the gasoline powered rotary saw when used for vertical venting is used as part of a roof dish. The reasons behind this include the depth of cut, the danger of starting the saw on a sloping roof as well as the torque and horsepower of the saw which can cause stability issues for users. With the inclusion of battery-powered operation, there could be a shift in operational mindset, as there is no pull start, and the amount of torque and power is not as much a security issue.
Getting the saws into the hands of as many members as possible during as many training sessions as possible is extremely important. After all, repetition creates muscle memory, and when a real incident calls for it, saws will be used appropriately without any thought, just as it is for stringing gear, pulling lines, and throwing ladders. .
On the other hand, my fellow department members have experienced both significantly shorter battery life under heavy use than what is stated by the manufacturer in the owner's manual as well as a time battery charge significantly longer than indicated. Additionally, they found that continuous heavy use caused the low amperage batteries to overheat (not drain their energy), causing the saw to stop working and requiring the installation of new batteries. Whether you like it or not, you may need to consider carrying gas-powered models on your device in addition to battery-powered models. A backup option can be vital if you find that a battery-powered model isn't doing what you need it to.
Train, train, train
New equipment technologies can bring new opportunities, and battery operation of rotary saws and fan saws fall into this area. That said, several inconsistencies exist between gasoline and battery-powered models, the most important being the need to train with them. Yes, starting the saw and leveling the blade or chain is good, but you have to use it, and the time to figure out the pros and cons of these tools is in the training environment.