Bowls full of creativity, purpose | the life of the valley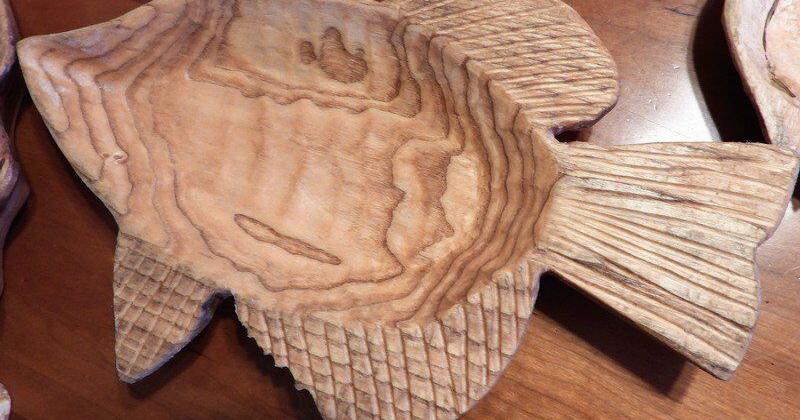 Decades ago, teachers in the small town of Aurora, in southeast Indiana, sensed the future of young Keith Ruble.
"My teachers said, 'Your mind is on the outside,'" Ruble recalled last week.
They were prophetic.
Ruble was educated in Aurora, then graduated with bachelor's and master's degrees in parks and recreation management from Indiana State University, became Vigo County's superintendent of parks at age 26, added outdoor amenities like Pioneer Village in Fowler Park and maple syrup making in Prairie Creek Park, developed his own secondary businesses in aquatic management and forestry, retired as a Parks Superintendent after 39 years in 2012, and has saw the county name a new park in his honor in 2013.
So, yes, his mind tends to be on the outside.
One of the many skills Ruble has learned as an outdoor enthusiast is the rare art of hand carving wooden bowls. He learned it from master bowl-maker Bill Day in the 1970s, who was demonstrating the craft at the Indiana State Fair. Over 40 years later, Ruble is also a master at making hand-carved bowls. His designs, and those of four other artisans, were featured in an exhibit at Indiana University's Herman B. Wells Library from August through Sunday. Almost half of the exhibit consisted of ruble bowls, with others made by the other Earls of Vigo, Blaine Berry and Dale Findley, Glen Summers from County Parke and Michael Combs from County Monroe.
"These are really just real works of art," said Jon Kay, curator of the exhibition and associate professor of folklore and ethnomusicology at IU.
Kay is also director of traditional Indiana arts at the university, a center that promotes a variety of the arts through collaborations with artists and arts organizations in Indiana. Kay has also spent 20 years studying the benefits of creative practices on the elderly.
The bowl makers involved in this fall's "Revival of Bowl Hewing in Indiana" IU exhibit fit this demographic. "All of these men are in their 70s to 80s," Kay said.
Ruble is 75 years old. In a matter of hours, he can turn a slab of raw wood into bowls shaped like wild creatures, farm animals, leaves, or states. It only needs four hand tools, a stump of sassafras, a constant focus, and patience.
"The more you do it and train, the better you get at it," said Ruble between movements of his adze, while cutting a piece of cherry wood into a bowl shaped like his original Hoosier state.
And he's gotten pretty good at it.
"Keith Ruble is truly regarded as a master at this," Kay said. "He took what he learned from Bill Day and took it to a new level. His bowls are so artfully made and super thin."
Ruble has been hand-carving bowls since meeting Day at the state fair four decades ago. Still, Ruble points out that almost anyone can learn the trade, which he says has become a "lost art." Most wooden bowls are made on a lathe. According to Jon Kay of IU, only 25 to 30 Hoosiers currently make hand-carved bowls.
"Normally I say to people, 'If you can drive a nail in you can carve a bowl," Ruble said.
However, hammers and nails are not among the main tools Ruble uses to carve bowls. An adze looks like an ax, but with an arched blade perpendicular to the handle, capable of chipping a bowl from a flat wooden plate and shaping the edges. The ruble adze was forged by Dave Voges, the blacksmith from southern Vigo County, whose multi-talented people were also showcased in videos at the IU exhibit this fall.
Ruble's toolbox also contains a bowl chisel, sculptor's hook, and grater. The key material, of course, is lumber, typically cut from fallen Indiana deciduous trees that are not intended for commercial use. The ruble favors cherry, butternut, walnut and Kentucky coffee trees for its bowls, but also uses other types of wood, from light like white ash to darker like black walnut, as well as oak. white and red, sugar maple, sassafras and others.
Sawmills might reject some wood used by the ruble, such as tulip poplar with dark stripes and mineral stains. "Sap stains are not allowed in commercial lumber, but they are great for bowls," he said. "I think that gives him character."
Once the bowls have reached their final shape, Ruble will sand the wooden artwork; the microwave; engrave the date, the type of wood and its name on the back; and apply a coat of oil.
He does this process – with the exception of sanding – in the living room of the rural Prairie Creek home, where Ruble and his wife, Susie live. Ruble covers the floor with a drop cloth, places a chair in front of a stump of sassafras with handles (his mobile workbench), takes out his tool kit and begins to prune.
"It's her relaxer," said Susie. "Sometimes we sit and watch TV and it just crumbles."
The ruble sometimes sells up to 100 bowls at the Indiana State Fair. "It's a year of work, however," he said. "You can't just knock them out."
He sells other individually hand-carved bowls and also donates coins to nonprofits, such as palm crosses for the Sisters of Providence in Saint Mary-of-the-Woods. All of them can be used to hold food, from the size of a baby to a "mother-in-law's bowl".
However, the benefits of making bowls go beyond the physical results. Turning a block of wood into a keepsake bowl, one stroke at a time, can be therapeutic – a "relaxer," as Susie put it.
"For me it was good stress relief," Ruble said. "As a park superintendent, I was under a lot of stress and could [hew a bowl] and relieve a lot of it. "
Folk arts also provide a creative outlet for helping older people overcome feelings of loneliness, helplessness and boredom. Kay highlighted dozens of older folk artists in the 2017 publication "Memory, Art and Aging: A Resource and Activity Guide." "These inspiring artists are fiddlers, storytellers, quilters, cooks, sculptors and more," Kay wrote in the guide. They "use a range of traditional arts and knowledge to help them thrive in their later years," he added. It also offers activity ideas for individuals and groups.
Dale Findley, whose bowls were featured in the IU exhibit, learned bowl carving in 2019 from Ruble, who attends the same church. Ruble guided Findley to the necessary tools and pieces of wood. Findley was 82 at the time. Two years later, the retired ISU education teacher made 92 bowls.
"When I first started I was blown away," Findley said Monday, "because you get a product out of it."
He gives his bowls. Last weekend, he handed out 32 handmade bowls to his family, which includes 13 grandchildren and four great-grandchildren. "They all loved the bowls, and it will make you feel really good," Findley said. "Using the adze, cutting and sanding gives you a bit of exercise.
"So it was a godsend for me," he added.
Vigo County Bowlmaker Blaine Berry is an 82-year-old retired arborist. He sold 52 bowls this year, featured several in the IU exhibit, and joined Ruble and Findley in a demo for college students this fall in Bloomington.
"It keeps me going," Berry said Monday. "I must have something to do. I'm not one of those guys who can sit in a rocking chair. It's a hobby that kind of turned into a job, and I didn't. had no intention of doing so. "
Berry watched Ruble demonstrate a bowl cut to Bridgeton in 1983. "He could make a bowl that wasn't round," Berry recalls, which intrigued him. Berry has been making bowls ever since, as well as Windsor chairs.
He sticks to the traditional bowl shapes – round, oval and rectangular – which are practical and "hereditary", as likely to be passed down from generation to generation.
"I have a feeling they're going to be there a lot longer than I am," Berry said.
Mark Bennett can be reached at 812-231-4377 or [email protected]