Letters to the Editor: Wednesday, April 13, 2022 | Opinion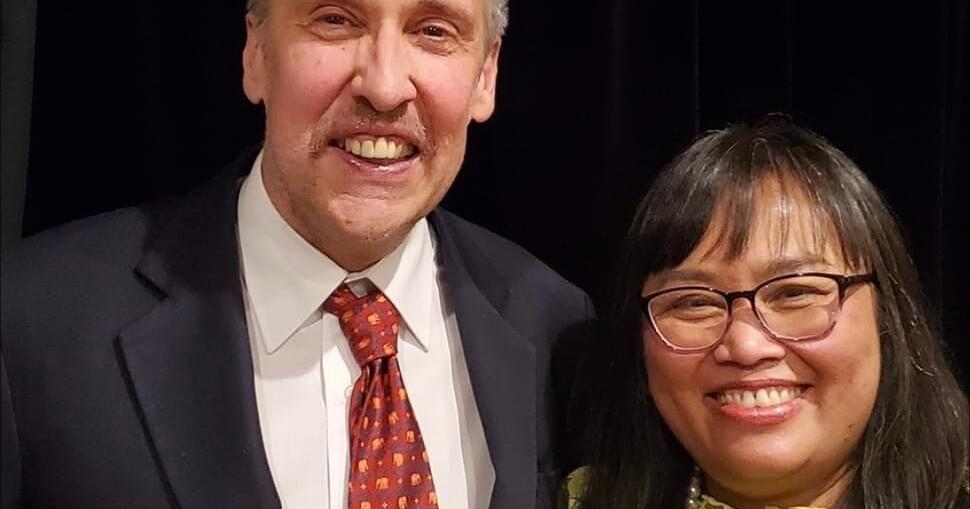 For Dennis Walker, the good guys come first
Dear Editor:
Re: Re: Dennis Walker honored (Herald, April 12).
So now Dennis is Cranbrook's Citizen of the Year, but then he's got the winner
formula. All he does is work hard, care about everyone he meets, and genuinely love his job.
In the last millennium, when I first met Dennis, I thought no one was so nice, I'll give him a month. Well, he's just as nice 30 years later as he was the first day.
He's also a consummate professional, covering everything from natural disasters to parades – and achieving the greatest feat known in broadcasting, he's exactly what you think he is.
Like a personal highlight. Cycling great Sean Kelly was in Penticton and Dennis was providing cover. As part of the day, a football game was held and Kelly's entourage chanted "the ref is a wanker!"
"What's a wanker?" Dennis asked.
You never really appreciate the pronunciation of "masterbater" until it's played to 20,000 people with an Irish cadence.
Well-deserved congratulations Dennis — and by the way, Nikita Afonso's cover of You've Got a Friend at the ceremony was awesome!
Scott Robinson
Penticton
Federal budget misses climate targets
Dear Editor:
Another federal budget, and more massive subsidies for the oil and gas sector.
The burning and extraction of fossil fuels is the primary cause of climate change. Yet our government is buying a pipeline and approving the Bay du Nord project.
The latest IPCC report makes it very clear that we have very little time, possibly less than a decade, to prevent global temperatures from rising to unlivable levels. Despite promises, Canada has never met its climate goals.
And it's starting to look like we never will. Governments are supposed to represent the public interest, not private profit.
It's time for our governments to invest our taxpayers' money in sustainable, renewable energy options – like solar, geothermal, wind – not the unproven carbon capture technology promoted by the oil industry. and gas and from which it benefits.
The science is there.
The solutions are before us. The obstacle is political.
Karyn Woodland
Colwood
10 simple suggestions for creating a noise-free city
Dear Editor:
To achieve a city without noise, apart from municipal regulations, we each have a lot to contribute, if we want it.
I found 10 ideas where I could be a better neighbor when it comes to noise, some of which, surprisingly, can also help the environment as well as my own well-being:
1. No lawn mowing on Sundays.
2. Switch to manual equipment such as the manual reel mower. Use rakes rather than leaf blowers. It will give me that bit of needed exercise and also help the environment.
3. When driving, press the accelerator lightly. This will save gas, help protect the environment and also save money.
4. Train my dogs not to bark at every passerby.
5. Ride a bike. Great exercise and eco-friendly.
6. Include trees in my landscaping. They absorb sound and help the environment.
7. Don't leave the radio on my patio on when I'm away.
8. Turn off my car radio. My ears will be better off.
9. In my workshop, learn to use hand tools such as wood planes, hand saws, etc. Develop my manual skills.
10. Maintain my vehicles in good mechanical condition.
This list is not exhaustive and you may be able to complete it.
Think about it, practice it and help us go to a noise-free city.
A great advantage for all: "Enjoy the calm and listen to the birds.
Doug Lawrie
Penticton
America does not want a ceasefire with Ukraine
Dear Editor:
Western economic sanctions have turned the war in Ukraine into a global conflict. From Bill Clinton to George Bush, from Barack Obama to Joe Biden, the Democratic and Republican parties differ only domestically – both practice the same American foreign policy – ​​as the only superpower that sees itself as a benign hegemon that practices a mix of neo-liberalism (the promotion of free markets) and neo-conservatism (interventionist foreign policy and regime change).
Donald Trump's victory in 2016 was a rejection of this American foreign policy. Trump's anti-globalist views led to a sudden retreat of the United States internationally and an America-first protectionist approach that saw China as an equal competitor and Russia as malleable. But Biden's election brought back the American globalist political elites who left Washington because of Trump, and American foreign policy picked up where it left off.
The Russians are winning the land war, but Ukrainian President Volodymyr Zelenskyy is winning the media war. The constant explosion of anti-Russian headlines in Western media is a volcano that Noam Chomsky says "has left the realm of rational discourse". Chomsky warns that US intransigence over Ukraine's NATO membership could lead to direct conflict with Russia. We hope common sense will prevail, but there are no guarantees.
Biden and his NATO allies are ready to inflict defeat on Russia. The strategy of the West is to fight Russia to the last Ukrainian.
The Washington Post makes it clear that the United States will not allow Zelensky to make a deal with Russia that the United States deems unacceptable. Biden stepped up his rhetoric.
Will ordinary Ukrainians say enough is enough and lay down their arms? Zelenskyy was elected in 2019 to end corruption and conflict in eastern Ukraine. But to end the conflict, Zelenskyy must accept the Minsk II agreement which promises neutrality and gives autonomy to the Donbass region, while restoring the Russian language.
Ukrainian ultra-nationalists will not accept Minsk II. This is why Zelenskyy has called for a ceasefire so he can hold a referendum of Ukrainians on any deal with Russia, as he must circumvent fierce opposition from entrenched right-wing ultra-nationalists to secure peace.
I'm afraid Zelenskyy won't get his referendum, because the United States now sees the conflict in Ukraine as an opportunity to beat Russia, and if Zelenskyy accepts any surrender that appears to be in favor of Russia, the United States will will side with the ultra-nationalists and this could bring the United States into direct conflict with Russia.
Jon Peter Christoff
West Kelowna