National Guard Builds Homes for Cherokee Veterans During IRT > Air National Guard > Article Display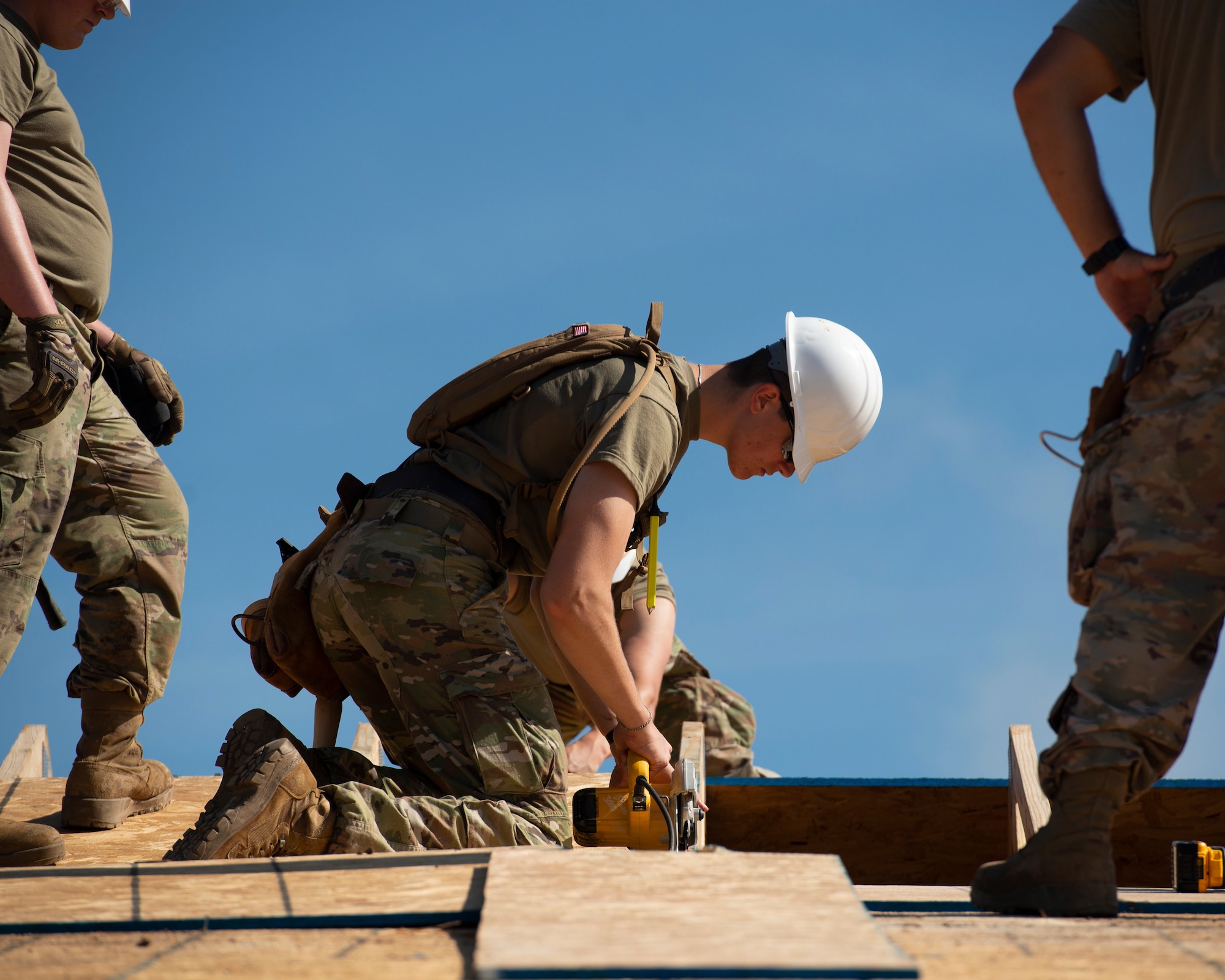 TAHLEQUAH, Okla. – Under the scorching Oklahoma sun, the sounds of construction echo through a construction site on Cherokee Nation land. Hammers, nail guns and power saws are driven by the hands of National Guard members across the country.
"The innovative readiness exercise here at Cherokee Nation employs Airmen and Soldiers to practice their craft while working with members of the local community," said Washington Air National Guard Second Lieutenant Cecil D'Souza. , the officer in charge of the civil engineering mission . "Together, we are improving mission readiness and building partnerships with the local community."
Air and Army National Guardsmen work from April through August, building homes to donate to low-income or homeless military veterans in the Cherokee Nation.
"It's pretty cool to have a mission that gives back to the local community," said Staff Sgt. Tyler Hone, power productions supervisor with the 124th Civil Engineer Squadron, Idaho Air National Guard. "We have a lot of hard working guys here who have volunteered to give back."
The housing program is a three-year contract for the construction of 21 houses. Furnishings and brickwork are contracted out to local civilians and civil engineers build the rest from the foundation.
Teams train in their Air Force specialty code and military occupational specialty, then reinforce their skills with hands-on training.
"We're all learning here so we can deploy and work together while knowing every role in our AFSC," Tech said. sergeant. Matthew Wolfe, assistant engineer from the 124th Civil Engineer Squadron. "The goal is for every Airman to be a Total Force Airman."
As the sun beats through the frame of the house, airmen and soldiers schlep wooden beams and build through ankle-deep mud from torrential rain just hours earlier.
"Rain is unpredictable here," D'Souza said. "Things are slowing down and we are making changes to the project schedule."
Members of the Guard go inside when the rain starts and wait until the roofs and floors are no longer slippery to start working outside again. Their secondary mission is to complement the interiors of the house.
"Fortunately, we have a group of Airmen who also do construction in their civilian careers," Hone said. "So they're very skilled and they help teach and refresh other members on inner skills that we don't use every day."
Hone said the members were excited to train as part of a joint mission for veterans in need.
"I joined the Guard quite late in life," he said. "It was just giving back and serving. This mission is exactly what I committed to and hoped to do as an Air National Guardsman.