TAIT: Grade 12 students graduate into a world of possibilities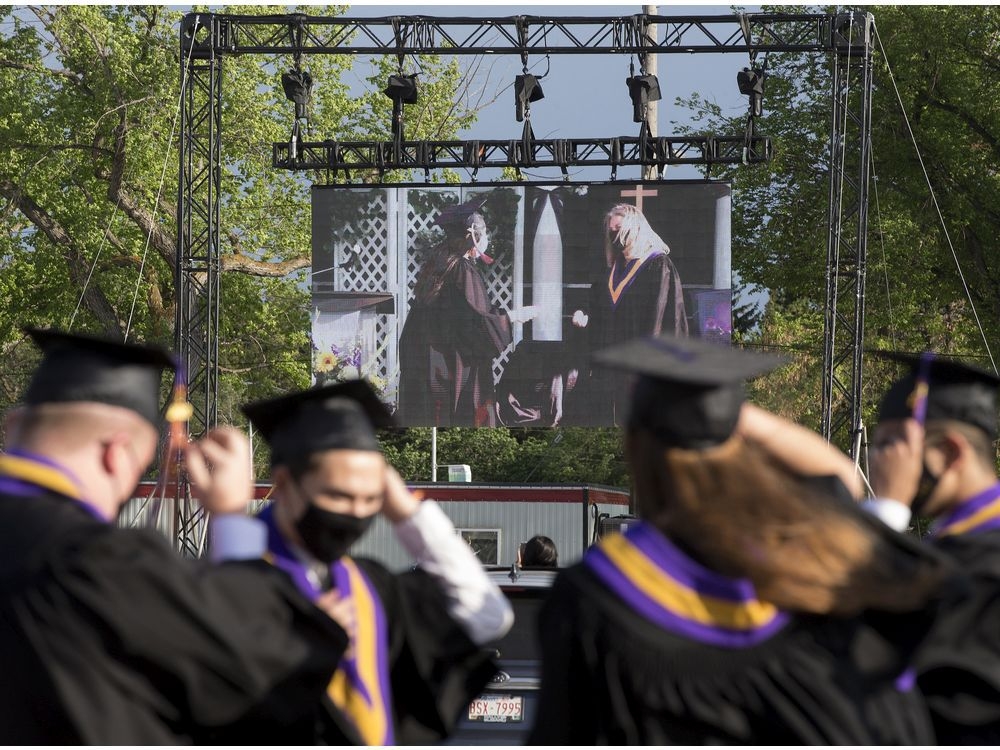 Content of the article
The last weekend of June: impossible to do better.
Content of the article
And I'm thinking especially of the 12th graders coming out of high school one last time.
Then turn the opening page to not just summer, with warm weather, late-night barbecues and more.
But, also about the act of opening up a new education, a summer job, maybe, and new ways of thinking.
Every year around this time, I zoom back in time.
In June of 1977, when I graduated from Glenrose School Hospital with all the pomp and ceremony with the official affair at the – then it was called the Edmonton Plaza – Westin Hotel.
I had the honor of being valedictorian and shared many stories, like when Derrick Coles, Curtis Sliwkanich and I almost blew up the Industrial Arts Lab.
You see, the industrial arts lab was in the basement, just below the school bus entrance on the north side of the school building.
Content of the article
Curtis – who died in 1984, God rest his soul – Derrick and I were working on a metal lathe.
Curtis, who always loved a challenge and then – as he could only do – challenged him.
"Let's see how far we can take this baby," he said before removing his face mask.
The red print on the lathe boldly indicated how many rpm it would go before… well, you know.
I forgot what the exact number was.
"Let's double that," Curtis said, turning the power on full blast.
So we did.
Derrick sat back, fearing an explosion.
I took off, step where-was-behind-me in great fear.
The ride got louder. And stronger. And started making high-pitched – very high-pitched squealing noises.
It caused industrial arts professor Jake DeLeeuw to storm out of his office in pure panic.
Content of the article
"What are you guys doing?" Mr. DeLeeuw said in his most characteristic Dutch accent over the incredible whine of the ride, before slamming the red emergency stop button, that, my reader, you need to know.
Derrick, Curtis and me? We can't walk. None of us – let alone jump to slam an emergency button.
"We just wanted to see how far it would go," Curtis said, looking for a small vote of confidence.
Mr. DeLeeuw shook his head.
"You almost blew the place up," he said.
Curtis smiled that priceless Lamont smile.
"But, what a way to do in your graduate year," he said.
The old Industrial Arts classroom was eventually demolished.
It has been replaced by a world-class technical facility, providing people with disabilities with state-of-the-art equipment to live with ease and dignity.
The name of this one is the most appropriate.
The Center I can.
As we hug and celebrate 12th grade graduates this weekend, I remember my two classmates.
We have proven, perhaps dangerously, that we can do anything.
So can you.