The Return of the Carve – Chadds Ford Live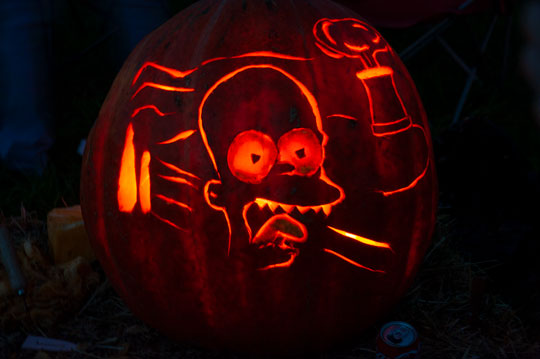 [ad_1]
After a year off due to the COVID pandemic, The Great Pumpkin Carve has returned to the Chadds Ford Historical Society pumpkin. Over 50 sculptors armed with saws, drills, knives and chisels fought a creative battle with the huge gourds. Some designs were simple while others were more complex and elaborate, but the idea was to have fun.
"It's amazing to be back," said Sandi Johnson, event manager. "People are really hungry for energy."
"And sculptors can once again get creative," added Randell Spackman, CFHSS President. After a year where there was only one virtual sculpture, he said: "We turn the machine back on, people want to go out and have something to look forward to. "
Some of that creativity mirrored traditional Halloween imagery. Others reflect the contemporary, like Julian Noble carving a working QR code on his pumpkin. A QR code – or quick response code – is a barcode made up of a grid that people can use to access websites through their phones. Noble said he could program the website the code was accessing.
A more traditional form came from Patrick Cabry who said he started sculpting the face of a wolf man, but turned into a face to be interpreted.
In between was "Crazy Eddie", a creation of the Anders family of Phoenixville. Crazy Eddie was a head with a face and a bunch of leaves sticking out of the head. And there was "Koo Koo Bird of Chadds Ford" by April Margera and a turtle by Heidi Brennan and her friends.
There was also a haunted trail donated by Phyllis Recca and Gene Pisasale, raffle prizes, live music from Kenny & Friends, as well as a performance by "America's Got Talent" contestant Dylan Zangwill.
The carving, with pumpkins on display, food trucks and live music, takes place on Saturday evening.

About Rich Schwartzman
Rich Schwartzman has been reporting on events in the greater Chadds Ford area since September 2001, when he became the founding editor of the Chadds Ford Post. In April 2009, he became editor-in-chief of ChaddsFordLive. He is also an award winning photographer.
comments
comments
[ad_2]