Toledo Edison invests $5.5 million in pruning work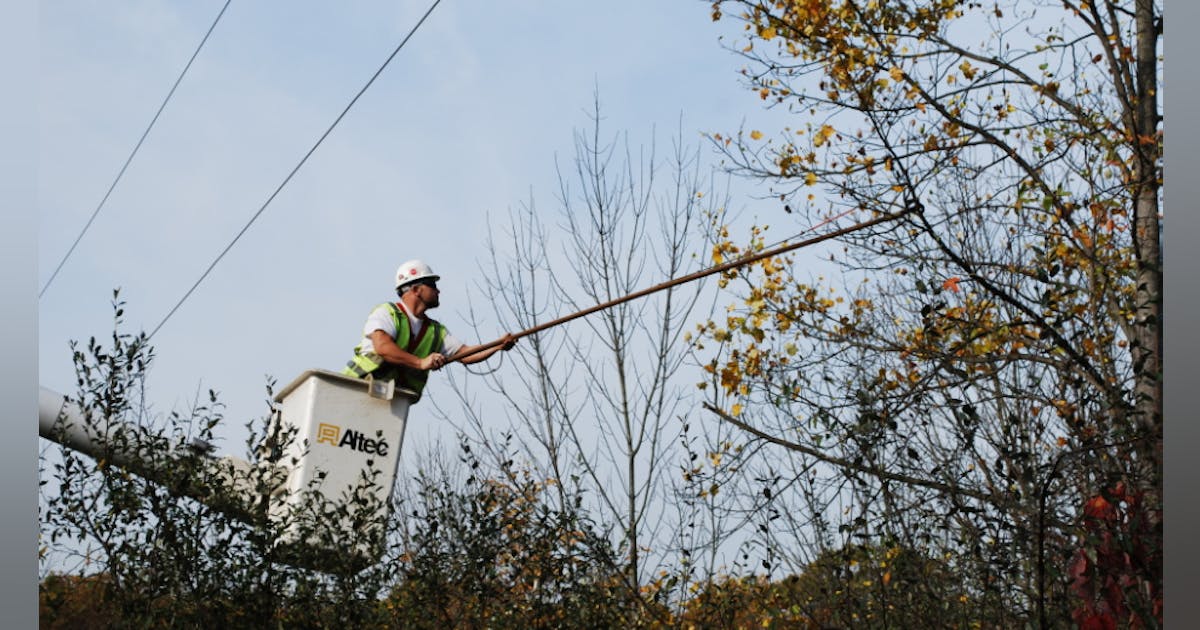 Toledo Edison, a FirstEnergy Corp. power company, is performing tree trimming and other vegetation management work in communities in its northwest Ohio service area to help improve service reliability for customers. This year's $5.5 million tree trimming program will help maintain power to customers by helping to prevent tree-related outages, such as those that can occur during spring and summer storm season.
Since the start of the year, tree contractors have trimmed trees along more than 150 miles of power lines across the greater Toledo area. The company's program remains on track to complete an additional 1,100 miles of tree trimming work by the end of the year. Similar work is carried out annually by FirstEnergy transmission companies along high voltage power lines in the company's service territory.
Tree pruning is done on a four-year cycle. The program includes inspecting vegetation near lines to ensure trees are pruned in a way that helps maintain tree health while maintaining safety near electrical facilities. Dangerous or diseased trees can be felled.
"Trees are a leading cause of power outages, and we perform proactive tree trimming every year to prevent tree-related outages during severe weather," said Ed Shuttleworth, FirstEnergy's president of operations. in Ohio. "This work, coupled with the extensive improvements we are making to our local power system, is undoubtedly helping to minimize the impact of weather-related outages to keep electricity flowing safely and reliably to customers."
Tree pruning will take place this year in the following counties and communities:
Challenge – Ayersville, Defiance and Ney
Fulton – Archbold, Delta, Fayette, Lyon, Metamora, Pettsville and Wauseon
Henry – Deshler, Holgate, Hamler, Liberty Center and McClure
Lucas – Holland, Maumee, Oregon, Ottawa Hills, Swanton, Sylvania and Toledo
Ottawa – Curtice, Genoa and Oak Harbor
Sandusky –Lindsey
williams – Bryan, Edgerton, Edon, Stryker, West Unity and Williams Center
Wood – Grand Rapids, Northwood, Perrysburg, Rossford and Weston
As part of its notification process, Toledo Edison works with municipalities to notify them of tree trimming schedules. In addition, customers residing in areas along the company's rights-of-way are notified before any vegetation management work is carried out.
Vegetation management work is carried out by certified forestry experts under the direction of the company, including Arbormetics Solutions, Jaflo Inc., Asplundh Tree Expert Company, Nelson Tree Service Inc. and Penn Line Service.
In the air, helicopters equipped with overhead saws began trimming trees in April to maintain proper clearances along hard-to-reach transmission and distribution corridors throughout the Toledo Edison service area. The overhead saw is typically deployed along transmission and distribution lines in areas that may be environmentally sensitive or inaccessible to bucket trucks and other vehicles. This method typically covers more area in a day than a ground crew could complete in a week. The saw also eliminates the risk of injury to workers using bucket trucks or climbing trees to cut branches near high-voltage equipment.
Toledo Edison serves nearly 315,000 customers in Northwest Ohio.