Uttarakhand polls: Artisans suffer as copper industry, once Almora's pride, near collapse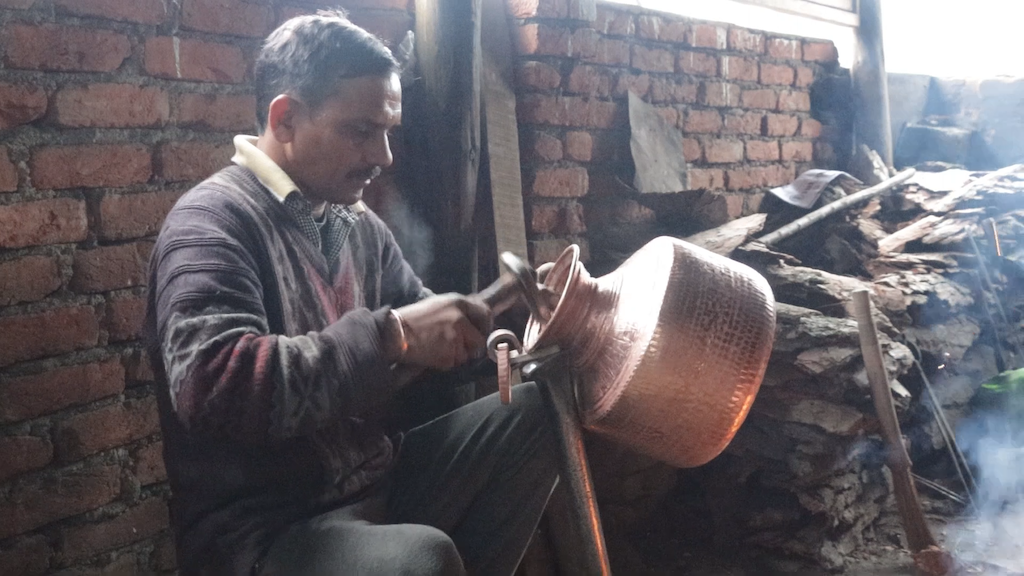 Almora: Almora town in Uttarakhand was once known as Tamranagari (copper town) but now copper working is in decline here. The copper craftsmen, who were not only the pride of Uttarakhand but the whole, struggled to survive today. No government has ever done anything to raise them, but politics has always worked on their behalf. This time the state government gave kalash (urns) made by artisans here as gifts to senior guests in the Kumbh Mela. But nothing more was done and in the end the craftsmen were left with just another photo opportunity.
To better understand the life of these craftsmen, NewsClick visited Tamta Colony, the copper hotspot in Almora, where even today some families carry on this work.
Amid heavy snowfall and rain, the NewsClick The team reached Tamta settlement on 3 February. As we approached the settlement, we could hear the sound of hammers from somewhere. We got closer to find a certain Rajesh Tamta, 55, sketching on a copper vessel with his hammer and chisel.
After which we reached the place where Rajesh Tamta, about 55 years old, was carving designs on a copper vessel with his hammer and chisel.
Tamta told us he's been doing this job for the past five decades. Since the age of 4-5 years, he helped his family in this work. His eyes and face turned sad when talking about today's situation, he told us that now there was no going back to this job, which made it difficult to meet the expenses of family.
Tamta said earlier that almost the whole locality is associated with this work, but now only four to five families are doing this work.
The rich and ancient history of Tamranagari
Almora's journey to becoming a hub of traditional copper utensils is rich and ancient. This work has been going on here since the era of the Chand dynasty.
Locals say the history of the copper town goes back about 500 years. It is said that the Tamta family had a special position in their courts of the Chand kings. They were experts in identifying and testing the quality of copper metal found under the ground. When the Chand kings moved their capital from Champawat to Almora, the Taamta (Tamta) families settled here.
At that time, copper craftsmanship achieved the status of the largest industry in the Kumaon region, where besides household use, coins and seals were also made from copper. Copper utensils were used during worship and religious events. Currently, apart from utensils, they make musical instruments, like Ranasingh, Tutri etc.
However, this industry was affected under British rule as it started importing copper from Britain. Yet the local industry has managed to stay relevant.
Mechanization has played a key role in the industry
Sohan, who has worked tirelessly to revive this industry and connect new young people to this traditional art, said NewsClick that the industry flourished even during British rule, but as soon as the dark shadow of mechanization fell over the craftsmanship, the once booming copper works of art industry gradually became desolate.
Naveen Tamta, 58, who has been associated with the industry for 40 years, said that instead of working in cottage industries staffed by traditional craftsmen, copper work has started to be done with machines in modern factories. . It was then that the downfall of Tamrangari and the craftsmen therein began, resulting in a crisis situation.
Savitri Devi, 58, who lives in Tamranagari, was once associated with this industry and earned good money, now does domestic work in people's homes.
Sitting next to her is Neelam, in her 40s, who said she also quit that job because there was no income and there was no work always available.
She said earlier that the sound of the hammer hitting the copper could be heard throughout the day in Tamranagari as people were involved in this industry on a large scale but today only a handful of people are doing this work. .
It should be recalled that the Tamranagari workshop was established by Mayawati, Chief Minister of United Uttar Pradesh, in 1997-98. A workshop of 10 to 12 rooms was set up where these craftsmen worked. Today, it is less a workshop than a craftsmen's house. Indeed, for lack of work, all these craftsmen have started to live in this space because they have no other shelter.
Neelam said government officials are now asking these artisans to leave, but where will they go?
The double blow of Corona on these craftsmen
The coronavirus pandemic has dealt a double blow to these artisans who were already facing many problems. The pandemic and the resulting confinement have pushed them to the brink of starvation.
Manoj Tamta, who is associated with this industry, said NewsClick that at least some work was going on before corona "but the lockdown left us completely unemployed for many months. The markets are now open but there are no buyers.
The custom of offering copper locks during the wedding season has now diminished, but there is still a lot of demand for laughed (ship) etc However, the pandemic caused weddings to be postponed this time, which severely affected work.
Moreover, a large number of foreign tourists visited this area and loved these handicrafts very much. They used to pay artisans fair prices, but since the pandemic, foreign tourists no longer come, which has had a profound impact on business.
Manoj said: "During this crisis, the government did not help us. All they did was give us 5 kg of ration. But does the food only include wheat and rice?
Rajesh Tamta said that during this period there was a huge increase in the rate of copper which had very negative effects on the craftsmen.
Lack of sincere efforts on the part of the government
Almost all the craftsmen repeated one thing: that the younger generation was moving away from this work because it had no return. Older craftsmen also left this job. Some of these started out as daily bets as women artisans, once involved in large numbers in this industry, are now forced to work as domestic helpers.
The government has drawn up many policies on paper for their improvement, but nothing is visible on the ground.
The biggest problem for these artisans is the lack of a direct market. They have to sell their goods to intermediaries who make a profit by paying them a nominal amount. Manoj said, "We are forced to rely on private traders. If the government provides us with a market, we can sell our goods easily and also make a profit.
Giving the example of khadi, he said if the government can open khadi showrooms in all states and major districts, why can't such showrooms also be opened for our handicrafts ? »
In the ongoing election campaign for the Assembly, each political party links this industry to the culture of Almora, declaring it as the "pride of the state", but no party has a concrete roadmap.
The main electoral battle in Almora is between the Congress and the ruling Bharatiya Janata Party (BJP). Congress fielded Manoj Tiwari while BJP fielded incumbent MP Raghunath Singh Chauhan.
There was a lot of anger in the Tamta community against the incumbent MP as they said he had not visited them for the past five years. Even when there was a serious crisis like the pandemic, it didn't help.
In the four Assembly elections held after the formation of the state in 2001, the BJP won twice, and the Congress also won twice.
The request of artisans is that whoever forms the government would only benefit them if there was a proper roadmap and plan to save this art.
(Translated from Hindi by Aditi)